INSULATION BOARD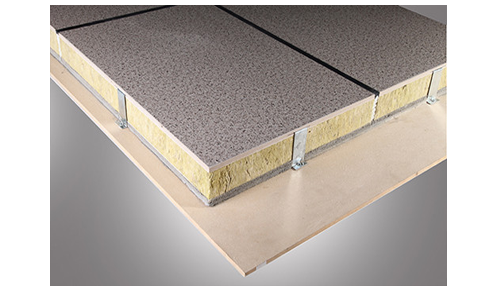 VARIETY APPLICATIONS
Three kinds of insulation decorative integrative boards: real stone, PVDF coating and imitation stone. BRD Insulation board is widely applied for villas, municipal projects, large residential estate and other large-scale office. buildings.

SUPER INSULATION
Excellent thermal insulation properties, low thermal conductivity and stability, which means the boards are not affected by the changes of temperature, humidity and make the whole building with constant temperature effect.

Advantage
1.Strong decoration effect
Fluorocarbon coating owns particularly strong ultraviolet resistance, heat preservation decorates a whole board keeping building long-term bright color and lustre to last.
2. Good abrasion resistance
Great resistance competence to the score keeping the original building bright color and lustre, and bright as new.
3. Self-cleaning ability
Strong chemical resistance, excellent self-cleaning. Won't effect the surface after a long period.Excellent antibacterial properties, and it suitable for clean space.
4. Long service life
Premium raw materials and scientific production technology to ensure service life more than 25 years.
5. High cost performance
Transfer imitation stone finishes enhance the taste of real estate, the price is far lower than the price of the stone walls.
6. Excellent heat insulation
integrative panel has excellent heat insulation property, low and durable thermal conductivity. It is not influenced by temperature and humidity to keep the building in a constant temperature.
7. Easier installation
It is much ore lighter and easier to install compared with traditional aluminum plate.
Technical parameters
| | | | | |
| --- | --- | --- | --- | --- |
| Name | TPS | XPS | Rockwool | PU |
| Density(KG/M³) | 28-35 | 30-32 | 120-140 | 40-42 |
| Flammability | B | B | A | B |
| Thermal conductivity W/(M.K) | ≥0.060 | ≤0.030 | ≥0.011 | ≤0.040 |
Manufacturing technology
The fireproof insulation decoration board has threelayer system, the first layer is decorative surface,the second layer is carrier layer, the third layer is insulation layer.

Decorative layer include Fluorine carbon coating, fluorocarbon metallic paint and fluorocarbon paint.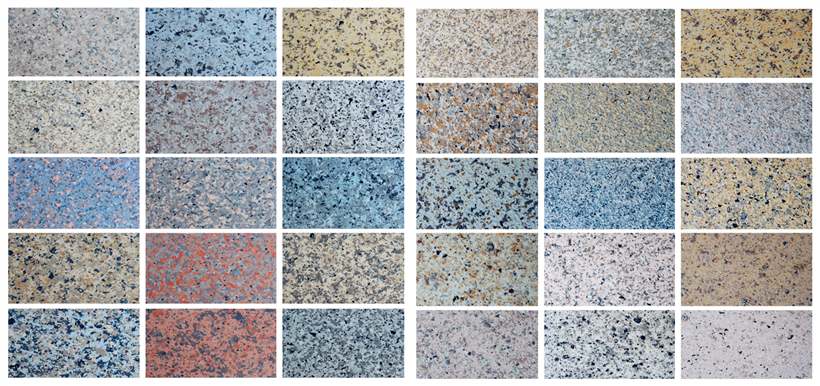 Base board is made from high strength inorganic resin plate (Also can use aluminum plate, steel plate).
Insulation layer type contains of Rockwool, PU, EPS and XPS.
Installation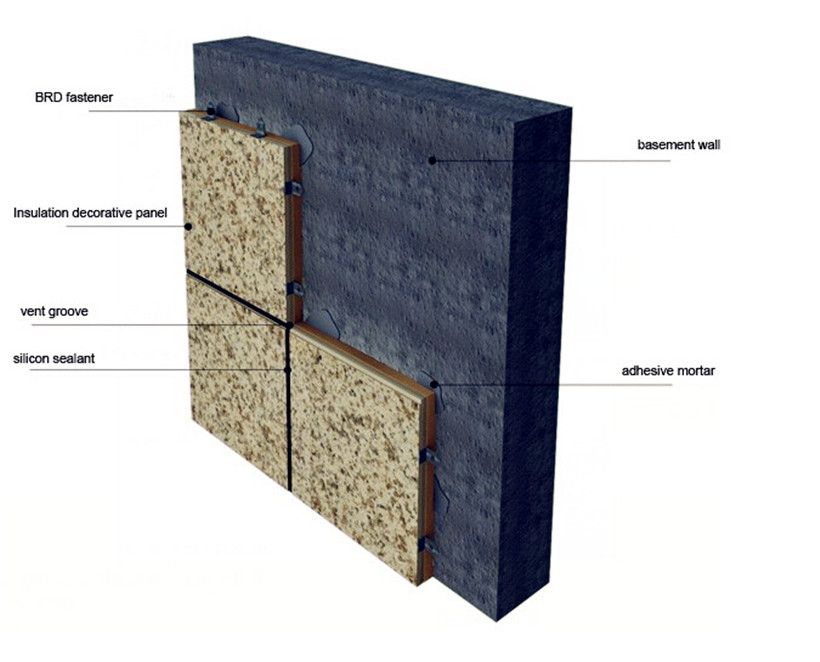 1, Check at the grass-roots level
Wall outside surface after painting at the grass-roots level shall meet the following requirements:
1) dry and clean.
2) eliminate bump, empty drum degeneration.
3) the surface must not have pulverization, peeling phenomenon.

2, The line space
Should set the vertical and horizontal line for flat base, according to the configuration design of separation scheme, pop-up installation line every board.

3, Borehole embedded bolts
Line to play good, after review and correct, according to play good line drilling embedded bolts.

4, Pre-loaded with anchoring
L anchor pieces with H the pendant fitting by expansion bolt in the wall.

5,The preparation of adhesive mortar
According to the proportion, and the good bonding mortar should be finished within 1.5 hours. Heat preservation to decorate a whole plate of bonding area should not be less than 50%, using dope putting "box" method.

6, Adhesive + anchoring
H hang from the lateral and medial respectively in decoration plate edge groove and heat preservation to decorate a whole plate fixed by bolts and adhesive mortar on the wall.

7,Seven, filling bubbles, paste the masking tape
Within the separation seam filling foam, and then paste the masking tape on either side of the seam.

8, Filling silicone sealant
To squeeze silicone sealant in the plate seam, in the process of squeeze QiangZui should into cracks more than 4 mm, uniform to move slowly and continuously.

9, To tear in addition to the crepe paper, protective film
After silicone sealant neat scraping, and then stripped crepe paper, protective film on all the unfinished project before it is strictly prohibited to tear in addition, if coated board face, you should peel off while off the scaffold.
FAQ
Is your company a manufacturer or a trade company?
Are your company made mechanically or manually?
What is your company's production capacity per month?
Whether can the products be delivered on time?
Do you provide free samples?