STEEL STRUCTURE
TECHNICAL SUPPORT
With 20 years of engineering experience and a professional design team, we will provide the most suitable design in accordance with the application of construction and the customer's demands.
QUALITY ASSURANCE
Our company has introduced the continuous production line which is the most advanced manufacturing technology level in China. BRD provides a good hardware support for the high quality steel structure.
Advantage
1.Adaptability
Steel can be adjusted or changed according to the customer's requirements. For instance, wall frames made from this type of material can be repositioned or altered easily in order to widen the space or create a new interior building layout. This ability to adapt to changes allows for expansions and helps the lifespan of the structure.

It offers a stylish way of creating large, column-free interiors, thereby giving the building a sense of openness. It is also malleable, giving structural designers the freedom to explore ideas in terms of creating stylish shapes and textures in order to make the building distinct.

3.Economy
With professional designers and workers, the cycle of the design and manufacturing is greatly shortened. The reasonable design allows using the least material to achieve the best effect. Thus it also helps reduce the labor intensity. Therefore, it will accelerate the project schedule. In general, it will bring us the comprehensive cost advantage.

4.Durability
It can withstand extreme forces or hash conditions. It is also unreceptive to rust and fire-resistant. What's more, they are not affected by termites, bugs, mildew and fungi. Besides, it is easy to demolish and the material can be recycled.

5.Ecology
Environmental protection effect is good. Steel structure housing construction greatly reduces the sand, stone, the dosage of the ash. The materials are recyclable which will not cause much rubbish.
Technical parameters
Name
Specification
Steel column and beam
Q345B, welded H section steel with two coats of red lead paint
Cran beam
Q345B, welded H section steel with two coats of red lead paint
Purlin
Q235, galvanizd C section steel with two coats of red lead paint
Shteel sheet thickness
0.4mm,0.5mm,0.6mm
Roof Cladding
V-760 0.5mm dip aluminum-zinc steel sheet + Glasswool Blanket with Aluminum-foil paper+ Wire Mesh
Skylight sheet
V-760, 1.2mm / V-900, 1.0mm / V-780, 1.2mm
Exterior wall sheet
V-780, 0.5mm dip aluminum-zinc steel sheet
Window
Aluminum alloy window
Door
EPS sandwich panel sliding door
Service
Design, Fabrication and Installation
We can make quotation according to customer's drawing or requirement;(size by length/width/height and wind speed), offering a free design drawing and all detailed drawings for installation.
Design software: Auto CAD,PKPM,MTS,3D3S, Tarch, Tekla Structures(Xsteel)V12.0.etc
Packing
According to customer's requirement
Load into 40/20GP,40HQ or 40OT
Manufacturing technology
Steel structure processing is a new breakthrough in the field of modern architecture in 21st century, The date of such a connection or caulking made of steel and steel through welding, bolting new engineering structures since birth,they are widely used in factories, gym, high-rise residential and other modern buildings. Henan BRD annual output reach to 100,000 tons.BRD steel structure processing' weld are very smooth, the structural welds can reach 1 level standard, and easy to manage.Steel projectile hit by the strong and intense friction steel shot blasting machine coordinates from different orientations, so that the oxide scale, rust and dirt on the rapid fall off the steel surface to obtain a certain roughness of the smooth surface.We have professional designers and meticulous workshop management to guarantee the high quality for every products.
Our steel structure continuous production line from Zhouxiang of Wuxi, and they are the number 1 manufacturing technology in China, that with highly integrated precision, production process convenient, accurate production processes, high production efficiency and environmental protection, etc for the production of high quality steel structure to provide a good hardware protection.

The step of Steel structure processing: 1.Raw materials-->2.Sketch-->3.Cut-->4.drill-->5.assemblage-->6.adjust-->7.Longmen weld-->8.check-->9.assembly-->10.weld-->check-->adjust(maturely)-->sandblasting-->surface painting-->check then in stock

Quality is our lifeline,Steel structure is widely applied in the construction, quality is not only damage the interests of customers, but also a threat to people's life and property safety, we always put quality as a top priority, the moment did not dare to relax! The steel structure are light weight, ductile, construction speed, large bay design can improve the indoor area, and is 100% recyclable material, capable of prefabricated factory mass production, so it is widely used in factories, workshops, shopping malls, stadiums , carport, canopy, steel staircases, shelves steel platforms, bridges, high-rise and high-rise buildings.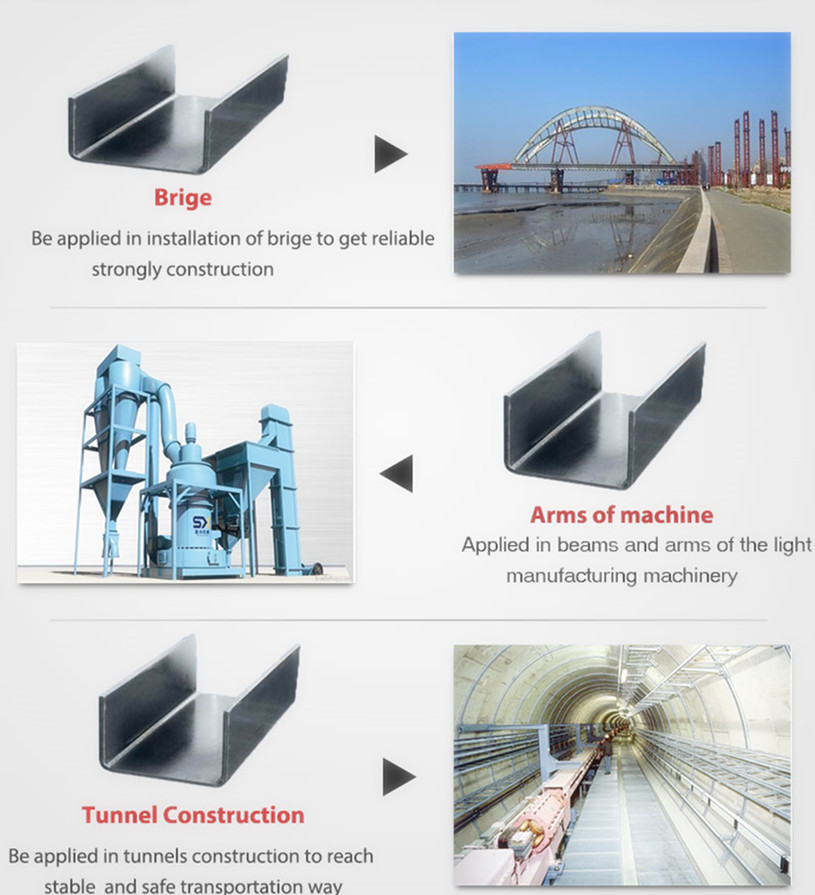 Installation
1.Steel roof before installation, civil engineering, manufacturing, and installation of examination and acceptance of the three parties to civil capital for the following: check the anchor bolt size, elevation, pitch, thread length and so on is in the range of allowable tolerances, span is consistent with the steel structure size, whether conform with drawing requirements. After the acceptance of the handover, before being steel roof installation, to ensure the correctness of the installation location, elevation, span, etc.

2. The steel roof truss should use the same ground pattern or mold, and adopts the block iron positioning assembly, to ensure the camber and span size are correct. The pedestal links the embedded, should be in the roof truss welding, after correction according to the size of its span position assembled to each other, to get accurate span, height and ease of installation. To facilitate the installation adjusting span size, support for embedded connection, can not with roof assembly first when producing, application of temporary bolts attached to the roof, for on site installation according to the size of the roof span and its position to connect. before hoisting, should carefully check the roof truss, corrected for deformation of parts, the guarantee span size again after lifting.

3.Strictly controlling the size of the component production, installation deviation. Hoisting, should use proper lifting process, such as cross level support length is longer, the stiffness is poorer, application round wooden reinforcement, lifting point location should be reasonable, keep as far as possible in a plane, the force center of gravity in the in-plane uniform stress, in order to prevent the bending, torsion deformation. When installation should make level support slightly connected to the roof truss arch is slightly greater than the level state, can eliminate the down warping. Large deviation such as connection position when not in place, shall not adopt any pull tool use outside force through the connection, so as not to make the roof bottom chord lateral bending or make the level of support too much on the arch or down warping, and to make the fitting to save a large internal stress. Horizontal support with a temporary bolted, good correction should be immediately after welding.

4.The bolt hole hole system should be set template, ensure correct size position. Before the installation, should bolt hole and installation surface finishing. Pay attention to eliminate small steel parts assembled deviation, to prevent accumulation. Bolts should be consistent. Steel structure components each side should have at least two mounting holes, in order to reduce steel members caused by itself down warping hole deviation, generally USES steel punch primary make fitting up and down hole.

5.Column, roof installation after correction, with temporary fixed position welding, by another group of welders should be immediately full welding are permanently fixed, and strengthen inspection, in order to prevent the individual node leakage weld length, height is not enough, when supported by external force, the connection node weld damage, and make the pillar and roof unstability.

6.Steel structure installation form space stiffness after the unit, should be timely the column bottom and top surface gap filling fine stone concrete finally fixed, make hinged column bottom comprised a solid, strong overall stability.

7.Component transport, stacking and components hoisting colligation point position of supporting points should be correct, in case of bending deformation of the components. Shall be carried out according to the scheme to determine the order of the installation, lifting should prevent collisions, installation is not, nor outside force in place, lest produce more than the limit stress component deformation.
FAQ
What is the diameter of the rebar?
Is your company responsible for the construction of the site?
What is the application of the steel truss deck?
Whether can the order be delivered on time?
Do you provide free samples?