PU SANDWICH PANEL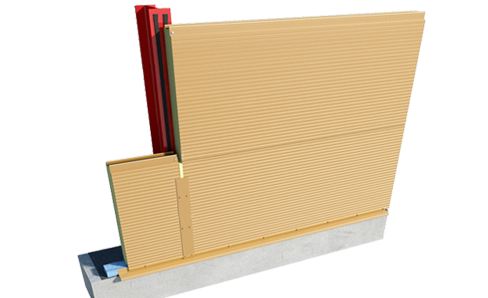 MULTI-CHOICES
According to different usage of insulated panels, PU Sandwich Panel can be divided into three types: Wall panel, Roof panel, Cold Store Sandwich Panel. Widely used in industrial and commercial buildings, Cold Storages, Clean Rooms,warehouses and prefab buildings.
SUPER INSULATION
Low thermal conductivity of pu sandwich panels with excellent thermal insulation properties, can greatly reduce the thickness of periphery of the building structure, which effectively increasing the interior area of the building and save energy and costs.
Advantage

Super flame retardation
The coefficient of thermal conductivity is 0.023w/(m•k), which ensures better thermal insulation efficiency. In practice, this effectively keeps the building absorbing heat and brings enormous economic benefits.

Economical
Great flame retardation and the complete removal of cold bridges (during the rafter installation), do help reduce heating bills.

Durable
BRD pu sandwich panels are the most durable thermal insulating material in the construction industry. Under the normal maintenance, its service life is the same with buildings.

Ecological
100% of the material is recyclable and the panels are friendly to the environment at the production and disposal stages.

Easy and quick installation
Compared with traditional thermal insulation methods, BRD use less material while the installation process is less time-consuming and labor-demanding leading to lower building costs.
Technical parameters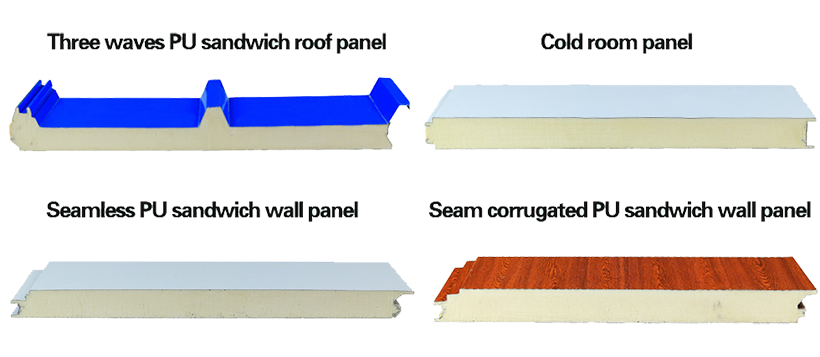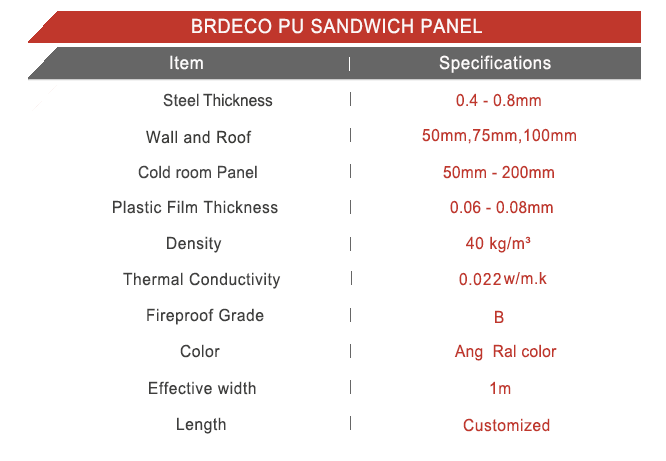 Cold room panels with different thickness are applied for different temperature requirements.
| | |
| --- | --- |
| Temperature range | Thickness of cold room panel |
| 0 ℃ - - 5 ℃ | 75mm thick |
| -10 ℃ - -18 ℃ | 100mm thick |
| -25 ℃ - -36 ℃ | 150mm thick |
| -36 ℃ lower | 200mm thick |
Manufacturing technology
The classification of polyurethane sandwich panel by application.
There are three application that the cold room panel, sandwich wall panel,
polyurethane sandwich roof panel
The classification of PU sandwich panel by raw material. There are four kinds that PU sandwich panel, rock wool sandwich panel, glass wool panel, EPS panel.
The type of roll coating. There are three kinds that galvanized steel sheet, stainless steel, aluminum magnesium manganese plate. The normal thickness of galvanized steel sheet is 0.4-0.7mm, the stainless steel is 0.3-0.4mm, the third is 0.5-0.7mm, they all come from Tianjin or Shandong.
Installation
1, First of all, it must carry on the construction preparation before installation, include personnel, materials, etc. All will be well prepared.
2, Before the installation of
wall panel
, it should check whether the verticality and levelness of metope purlin installation requirements, wall frame column vertical degree meets the requirement.
3, Before installation polyurethane wall panel, it should first mounting plate bottom water retaining plate and the bottom of the window to block water board, water retaining plate and wall frame beam connection with self tapping screw fixation.
4, Polyurethane wall panel links with ground.
Lateral links: fixed polyurethane sandwich panel with the ground at the other end of the round hole with steel frame fixed, connection between the two plate mouth involution, if occurrence crack of the connectors available heat preservation to fill.
Vertical links: the gap between plates, using the dedicated button concave groove in the fixed wall panel.

FAQ
What is PU Sandwich panel?
What is the Minimum order quantity?
How many days of shipping to my country?
Make Orders
CONTACT US
Contact us using form bellow