ROCK WOOL PANEL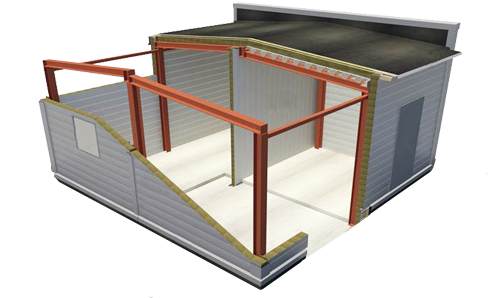 100% NON-COMBUSTIBLE
Rock Wool Panels are consist of top and bottom PPGI, Zinc, Aluminum sheet, with high density basalt wool as core insulation. Due to the excellent performance fire resistance and acoustic insulation, rock wool sandwich panels are commonly adopted for fire-resistance and soundproof buildings.
SUPER SOUND ABSORPTION
As the most effective acoustic materials used in construction.Take the 50 mm thick rock wool sandwich panel for example and the panel can absorb the sound over 30 db/m2.Widely used in the steel structure factory building, activities room, roof, wall, air clean room ceiling and partition.
Advantage

COST SAVING & DURABILITY
The rock wool sandwich panel insulation stone wool is made from rock, making it naturally durable and stable over the lifetime of a building. As the unique physical structure, rock wool panel is not affected by changes in temperature or humidity. This means the owner can create a pleasant and stable temperature year after year, while saving energy and money for cooling/heating.

FIRE SAFETY
Have you ever seen rock burn? Neither have we. Rock Wool Panel Products are rated
Non-combustible
. Basalt stone wool adopted to Sandwich Panels is fire-protecting insulation material, it's fibres' resistance to high temperatures, will limit the buildings to fire or spread. Using Rock wool sandwich panel will improve the building's fireproof performance, protect life and property safety.

SOUND INSULATION
Sound is tough to get through rock. Rock wool sandwiched panels are the most effective acoustic insulation used in construction. Installing Rock wool panel provides a real reduction in external noise, our rock wool panels allow builders to design the right acoustic environment for each space, whether it's a workshop, concert hall, air clean room, or residential house.

FAST CONSTRUCTION
Rock wool sandwich panels and accessories are produced in full accordance with the building layout drawing, it is fast and flexible to install on the construction site. The construction period can be shortened by more than 40%. Therefore, rock wool sandwich panel is ideal for fast constructed prefabricated buildings, such as
industrial warehouse
, container house, prefab buildings.
LONG LIFE TIME
Rock wool sandwich panel is produced by the automatic production machine at a constant temperature, all the raw materials and process are in strict accordance with the international quality management system. which means the quality of the product is stable, can guarantee the life time of 25 years.
Technical parameters
| | |
| --- | --- |
| Name | Specification |
| Density of rockwool | 100-140kg/m³ |
| Effective width | 1000mm |
| Thickness | 50mm, 75mm, 100mm,150mm |
| Length | As design requested |
| Color | Any Ral Color |
| Surface Material | Galvanized ,stainless steel, Zinc aluminum steel |
| Steel Thickness | Nomal: 0.4-0.8mm |
Upper and lower surfaces: galvanized color steel, thickness of 0.4-0.7mm. According to the specific requirements of customers, can be colored galvanized steel or galvanized steel. After the first steel roll forming machine in rock wool factory complex.
Rock wool core material: the density of 120kg / m3; rock wool block staggered laying, the fiber direction perpendicular to the sandwich is still under the surface, and closely Detailed enrich the entire vertical and horizontal surface movement plate. And wool and, through the high intensity blowing agent connections between the lower plate is formed integrally between rock wool blocks. Sophisticated production process to ensure to produce high density rock wool insulation between the body and the metal plate inside the inner wall of strong adhesion, so that the rock wool sandwich panel has good stiffness.
Manufacturing technology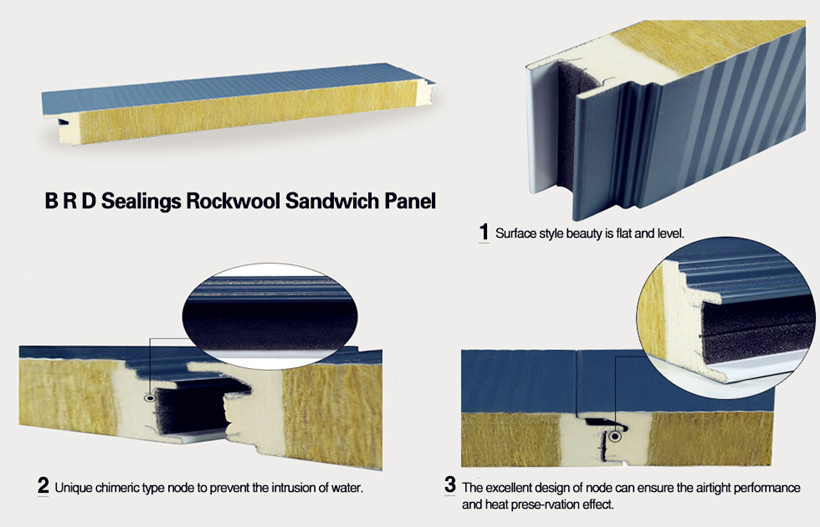 Rock wool sandwich panel used the assembly line production process, give full play to the rock wool core material of the unique properties, such as fireproof, sound-absorbing, and good use polyurethane excellent waterproof performance, and avoids the shortcoming of rock wool bibulous absorb moisture, let polyurethane, rock wool board got fully the advantages of integration, to carrier to save, thus effectively extend the service life of the product.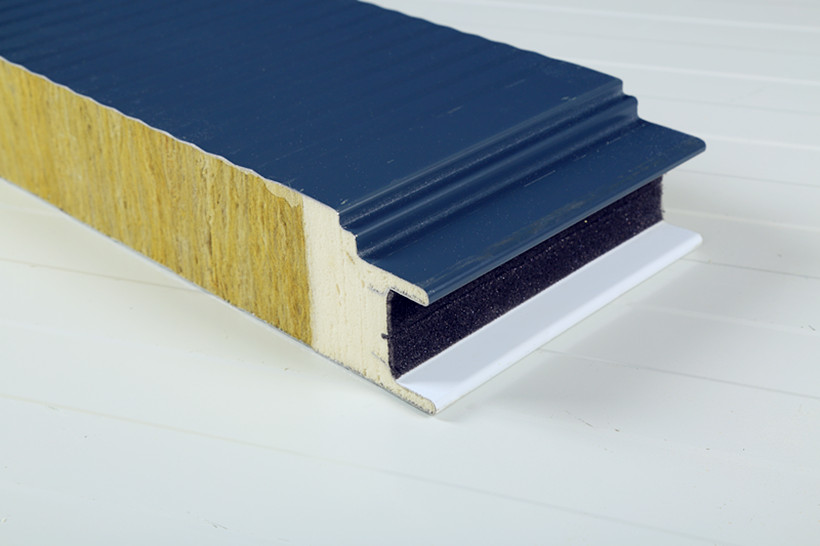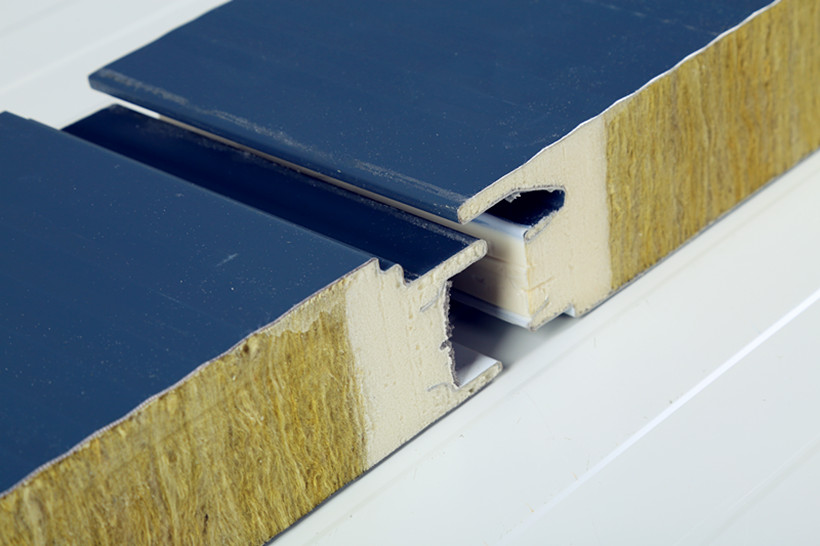 The characteristics of ROCK WOOL PANELS
1) Two sides filled with PU foaming, which effectively prolong the service life of the product.

2) Various design: the surface design with European standards, and smooth, round shape, board face level off beautiful, seams, reliable strength, effectively prevent the formation of hot and cold bridge.

3) High strength:

polyurethane sealing rock wool

on both sides with two layers of steel plate and core material bonding into a whole, to work together, plus the roof plate surface wave pressure type, its overall stiffness is far better than the pressed powder rock wool, glass wool cotton) the site of the composite plate. Sandwich board by fitting and purlin fixed, greatly improving the overall stiffness of roof, roof to strengthen the overall work performance.

4) Reasonable hooking way: rock wool board connected by hidden-interlocking roof polyurethane sealing side, to avoid the roof plate joint leakage hidden trouble, save the dosage of accessories.

5) Fixed firmly reasonable methods: polyurethane seal rock wool roof plate self-tapping screws on both sides set up between the two plate seam roof plate wave location, and the use of special waterproof structure, avoid to produce waterproof vulnerabilities.

6) Short installation period, polyurethane sealing side rock wool sandwich panel, due to the site without secondary processing, the average daily installation area of 600 ~ 600 square.

7) Anti scratch protection: rock wool sandwich board in the production of polyurethane sealing side, can paste polyethylene adhesive protective film on the surface. To avoid the transportation and installation process of the steel plate surface coating from scratch or wear.
Installation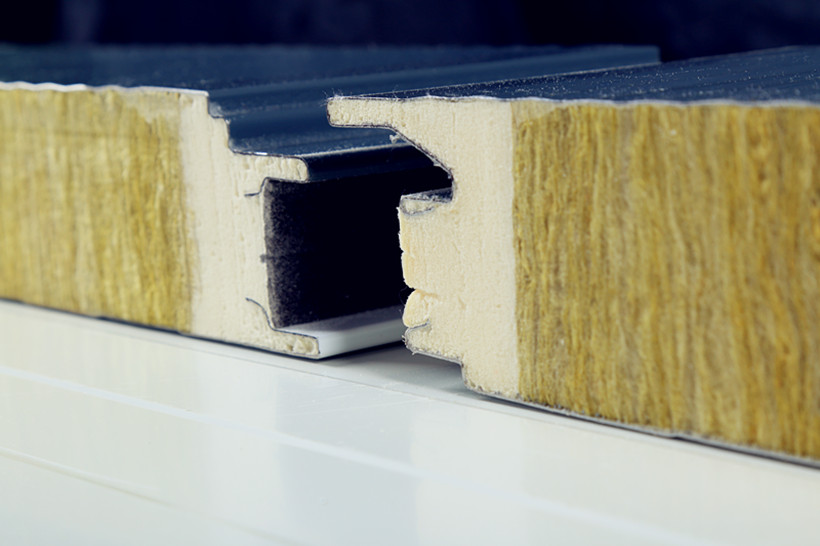 1.
You need to ensure that the heat preservation facilities and pipeline surface drying, there is no leakage. rock wool board and rock wool felt have to butt joint closely in order to let the heat loss minimum,
2. I
t is best to use metal or plastic package on its surface when the rock wool products for outdoor insulation or where vulnerable to mechanical wear, and pay attention to the joint tightness and sealing. If used in cold areas, it must be combined with a layer of moisture proof layer on the surface.
3. T
he polyurethane rock wool insulation board must be combined with appropriate outer sheath when the temperature is greater than 200 degrees Celsius, and it won't make the product thickness and density of change.
4.
It must be combined with the heat preservation nail, and to guard against when used in large diameter or wall rock wool insulation products equipment and the temperature is greater than 200 ℃.
FAQ
What is Rockwool Sandwich panel?
What is the Minimum order quantity?
How many days of shipping to my country?
Make Orders
CONTACT US
Contact us using form bellow